A STRESS-FREE START TO PLANNING THE PERFECT WEDDING CAKE - 6 TOP TIPS
Posted on
OK, so you've just got engaged, congratulations! The date has been set and now planning for the big day begins. I can safely say of all the tasks you will encounter, choosing your wedding cake will undoubtedly be one of the most enjoyable activities of the whole wedding planning process. Yes, that's right! It should be fun and of course very tasty, so take your time and explore your options. After all, it is probably the most important cake purchase you will ever make and for that reason, I'm sure you'll want it to be just perfect.
Here are my 6 top tips to help you have a stress-free start to planning the perfect wedding cake.
TIP 1 ATTEND A WEDDING FAIR
Wedding fairs are a great opportunity for couples to scope out availability both locally and further afield before making any real commitment to a wedding cake maker and designer. Most wedding fairs are free to attend (although you might need to register your interest) and will showcase a range of quality wedding suppliers.
If however, you've already narrowed down some options to two or three bakers, or you know for sure who you want making your cake. I'd still suggest visiting a wedding fair, particularly one your preferred cake designer will be at. This will allow you to get a feel for them in person, have a chat and ask any questions before taking the next step.
I'll be heading to a number of wedding fairs this year including the My Dream Wedding Fair on 13 April 2020. I can't wait to meet some lovely couples and of course I'd love to meet you too! Feel free to connect with me on my social platforms to keep updated on future events that I will be attending.
TIP 2 HAVE A BUDGET IN MIND
Before contacting wedding cake designers it's a good idea to determine a budget for your cake. At this point I will say be realistic. These days a wedding cake can cost anything from around £300 and can go up to over £1000 depending on chosen style and design. You may already have design ideas for your cake and having a budget in mind will allow you to be confident in speaking to a cake maker.
It's important to realise that a cake with lots of intricate detail and handmade sugar flowers for example will cost a lot more than a cake dressed in fresh flowers or if opting for a simple clean design.
The amount of people you need the cake to feed will also inform the cost of your cake, so be sure to have an idea of intended guest numbers when talking to cake makers so they are able to provide you with the most accurate quote possible. A good wedding cake designer should be able to provide helpful suggestions and talk you through options based around your budget!
TIP 3 GET INSPIRED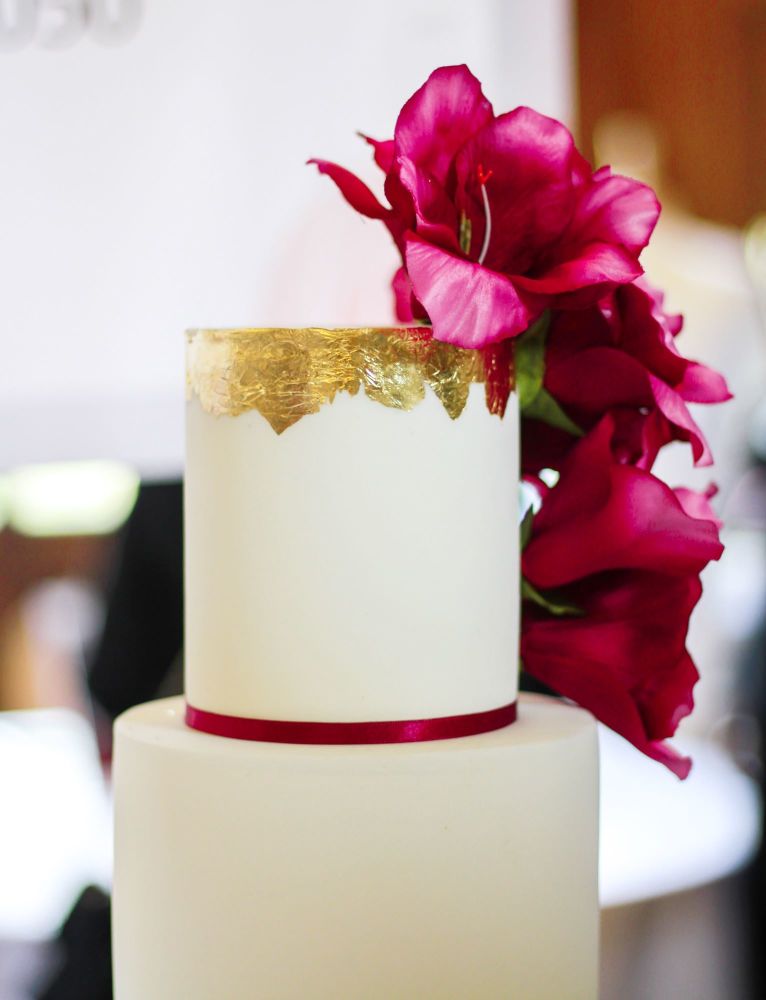 There are so many beautiful styles of wedding cakes out there for you to gain inspiration from, this having evolved massively over the last decade from traditional to more modern and contemporary designs. Whatever your style, I'm certain there is something out there that will inspire you!
It is worth doing some research to identify your particular style, what you do and certainly dont like, so that you can share this with your cake designer. It is always handy to bring along to meetings any ideas you have, so your cake designer can have a better understand of your sense of style and vision for your cake.
A lot of the brides I work with will create mood boards, personal cake galleries of cakes they really love, use colour pallettes and any other items such as colour swatches that inspire them. These are usually brought along to their cake tasting and design consultation which is lovely to see, as it allows me to get to know my couples much more.
TIP 4 GET SOCIAL
Like many cake designers, I share my cakes in real time across my social platforms, so couples can get a clear sense of my work output and the types of cakes I specialise in. But don't be swayed by gorgeous images alone. Seek out online testimonials and reviews to complete the picture before you arrange a meeting. I've had some lovely words said about the Milzinga Cakes experience over the years - check out these love words right here.
TIP 5 ATTEND A TASTING AND DESIGN CONSULTATION
Your wedding cake should taste just as good as it looks! To ensure you have no surprises on your big day, it is a good idea to arrange a tasting with your chosen wedding cake designer. At your cake tasting you will have an opportunity to sample the different cake flavours on offer, 3 or 4 flavours is usually the norm, as well as discuss design details for your cake.
When choosing flavours, remember this cake may be feeding all of your guests, but it's designed to please two people in particular: you and your partner. You might also find that you fall in love with more than one flavour, which happens a lot at Milzinga Cakes. No need to panic, I am happy to accommodate more than one chosen flavour for each of your cake tiers. If you'd like to book a tasting and design consultation with me, you can get in touch here.
TIP 6 DONT LEAVE IT TOO LATE TO SAVE YOUR DATE
If there's one thing you must do, it's book your wedding cake designer early!
So often I get contacted by couples in the late stages of their wedding planning wanting to secure their wedding date and unfortunately I have to turn them away. To avoid disappointment and as a general rule, I'd suggest booking your wedding cake designer no later than 9 months in advance of your big day. Cake designers often take on a limited number of wedding cakes per week to ensure each of their couples receive the personal attention that their wedding cake deserves. I generally get booked up really fast and in most cases at least a year in advance, this is particularly true during the most popular months; May, June, July and August - dates during these months usually are the first to go!
But what if you've not yet decided on the finer details of your wedding like colour schemes and venue décor? That's absolutely fine, most cake designers will allow you to Save Your Date with a small deposit. This means once you've chosen your cake designer you can park wedding cake planning until closer to your wedding day. At around 4 - 6 months away, you should have a good idea of colour schemes and finer details by this time and can work better with your cake designer to finalise design details to match the overall scheme of your wedding.
So there they are, my six top tips to getting started stress-free. If you follow these tips you're certain to get off to a great start to planning your perfect wedding cake. If you'd like to know more about the Milzinga Cakes experience or would like book a tasting and design consultation do get in touch, or drop a comment below, I'd love to hear from you.
Thanks for visiting my blog!
Amilia x